Summer Upgrade 2019
Moodle, the University's centrally supported virtual learning environment,was upgraded from version 3.4 to 3.5 on Tuesday 23 July 2019.  The upgrade introduced security updates, bug fixes and some new features. 
This year's upgrade will be relatively modest in scope and there will not be major changes to the current layout and functionality of Moodle.  Once the evaluation and testing phases are complete, details of the new features in Moodle 3.5 will be added to this page.
If you have any questions about the upgrade, please contact the Moodle Helpdesk: moodlehelp@uis.cam.ac.uk
New Features
Short audio and video creation
It will be possible to record short audio and video segments (2 minutes maximum) easily within the Atto rich text editor.

Moodle's demonstration video: https://youtu.be/gr4mw1qvcWM
Quiz and Choice improvements
Essay questions in Quizzes will allow teaching roles to define which files types can be submitted by students.  It will also be possible to attach images and short audio or video feedback when marking essay questions in Quizzes.  In the Choice activity the privacy of results will be explicitly stated before students make their own personal choices.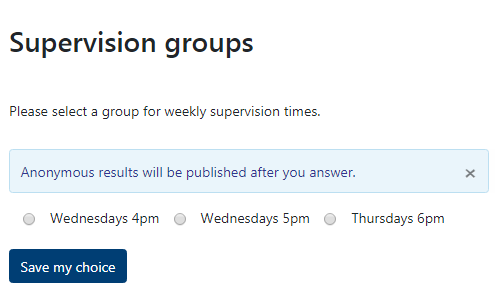 Moodle's demonstration video: https://youtu.be/Yo3HSnOLAQU
Quiz question tagging
Individual questions can be tagged to improve searching for questions within the Question Bank when creating a new Quiz.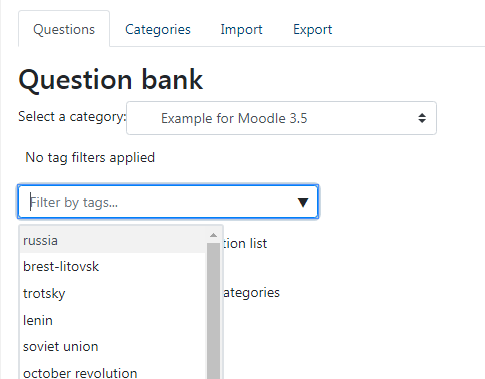 Moodle's demonstration video: https://youtu.be/xNmqiCYDBDk
Course restrictions now available for the Guest role
It will be possible to restrict access to a section, activity or resource based on the role of 'Guest'.  For example, this could enable a course to display limited information to Guest users (please see Guest access Help topic for more details) where other content would only be available to enrolled users with specific roles.
Changes to existing features
Section Ownership will be decommissioned
The Section Ownership function allows editing rights for specific course topics to be restricted to named individuals.  When this function is removed, course members with editing roles (Moodle Coordinators, Teachers and Non-enrolling teachers) will be able to edit all of the course's content.  Please see the Decommissioning guide in Moodle Help or email the Moodle Helpdesk via moodlehelp@uis.cam.ac.uk for further details.
Section editing cog icon removed from Topics and Weekly formats
The cog icon in the Topics and Weekly course formats will no longer appear.  The sole editing option is via the menu Edit > Edit topic.

Users can update their Email addresses directly in Moodle
All Moodle users will be able to update the email address used by Moodle via their User profile. Previously users had to update these values in the 'feeder' systems of CamSIS and CHRIS.
H5P Interactive Content updated
The libraries that support the H5P Interactive Content activity will be updated.