Summer Upgrade 2018
Moodle was upgraded from version 3.2 to 3.4 on Tuesday 17 July 2018.  The upgrade included layout changes based on Moodle's 'Boost' format to improve navigation and editing options.  Also included were a number of new features, bug fixes and performance improvements, some of which have come as a result of the Moodle User Survey conducted in Michaelmas 2017.
Video Guides
Introducing the dashboard and navigation
How to edit your course space (for roles with editing capabilities)
Dashboard
This is the first page that you see once you have logged into Moodle.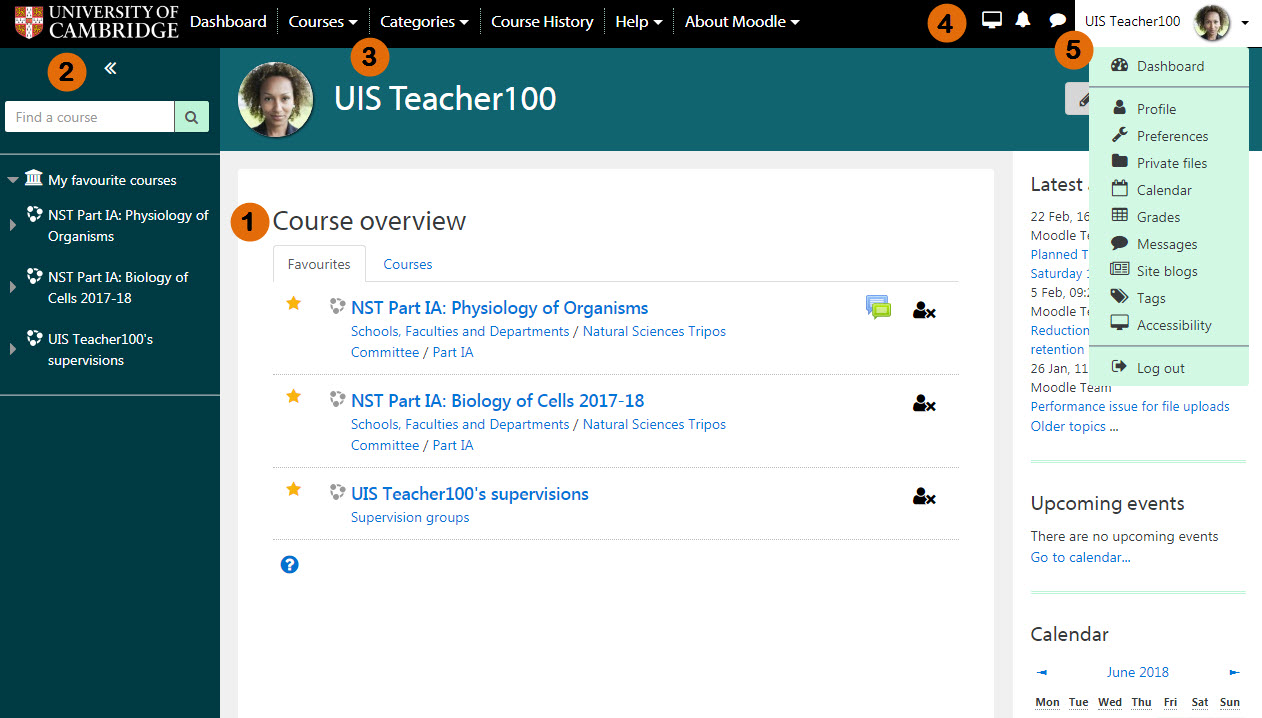 Favourite courses - the Course overview has two tabs: Favourites and Courses. The first time that you login you will see all of your courses listed on the Courses tab.  Click the star icon to make a course a favourite.  Once favourite courses are defined, the default tab will be Favourites.
Navigation menu - a collapsible menu with links to your favourite courses and a Find a course option.  This menu replaces all content which was previously located along the left margin of Moodle.
Courses and Categories - two new drop-down menus to make it easier to find courses and categories. The Courses menu provides quick links to your favourite courses, to a list of all your courses and to the Find a course option.  The Categories menu provides a link to browse a list of all categories and view contact details for local Coordinators.  The Categories menu will also show Moodle Coordinators links to the categories that they are able to manage.
Accessibility - allows quick changes to font size, text contrast and the application of colour overlays.
User Menu - provides quick links to your individual areas (Calendar, Private Files, Grades, Messages) and settings (Profile, Preferences).
Courses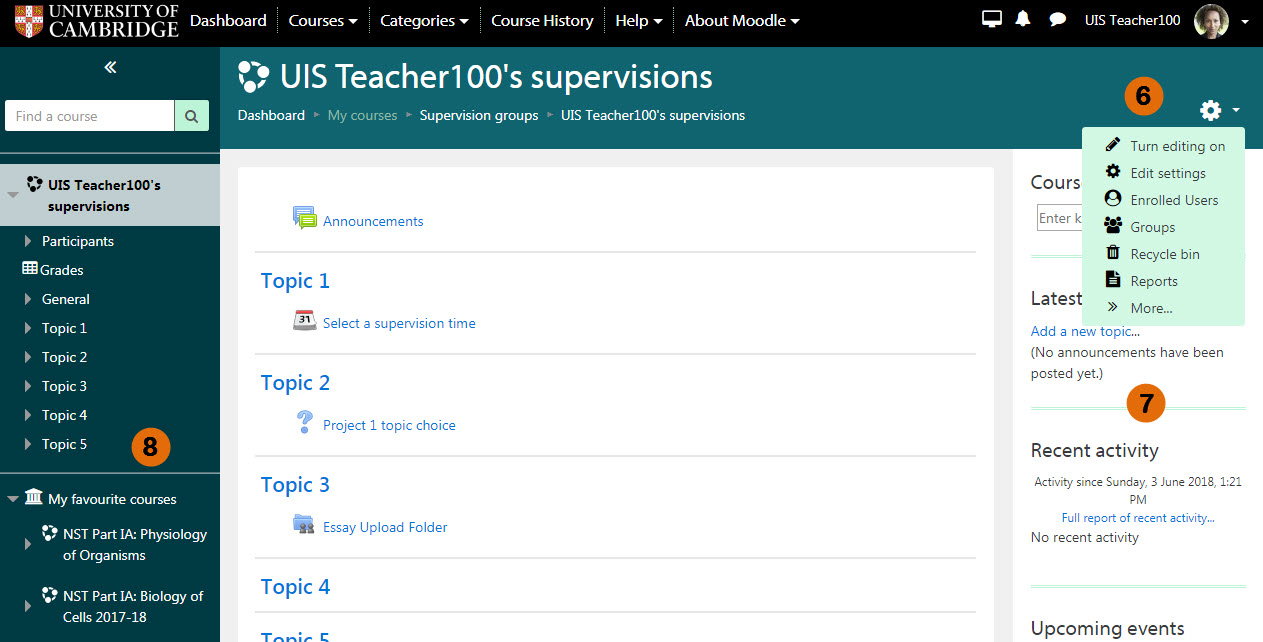 Course Actions menu - those with an editing role will be able to click the cogwheel icon to access a list of frequently used actions (such as Turn editing on).  All editing options can be seen by clicking the >> More… link.  This replaces the Administration block currently used in Moodle 3.2. Editing can now be turned on/off by the keyboard shortcut SHIFT+ALT+E.
Blocks - will now be displayed only along the right margin of the course page.  Individual users will no longer be able to customise their view by docking or minimising blocks.  Course administrators can continue to add, delete, move or hide blocks as required.
Navigation menu - will be the only item displayed along the left margin of the course page.  Within a course this menu will start with links to course Participants (Teachers will also see enrolment administration options), Grades and the content of the course, followed by links to favourite courses.
Editing Course Content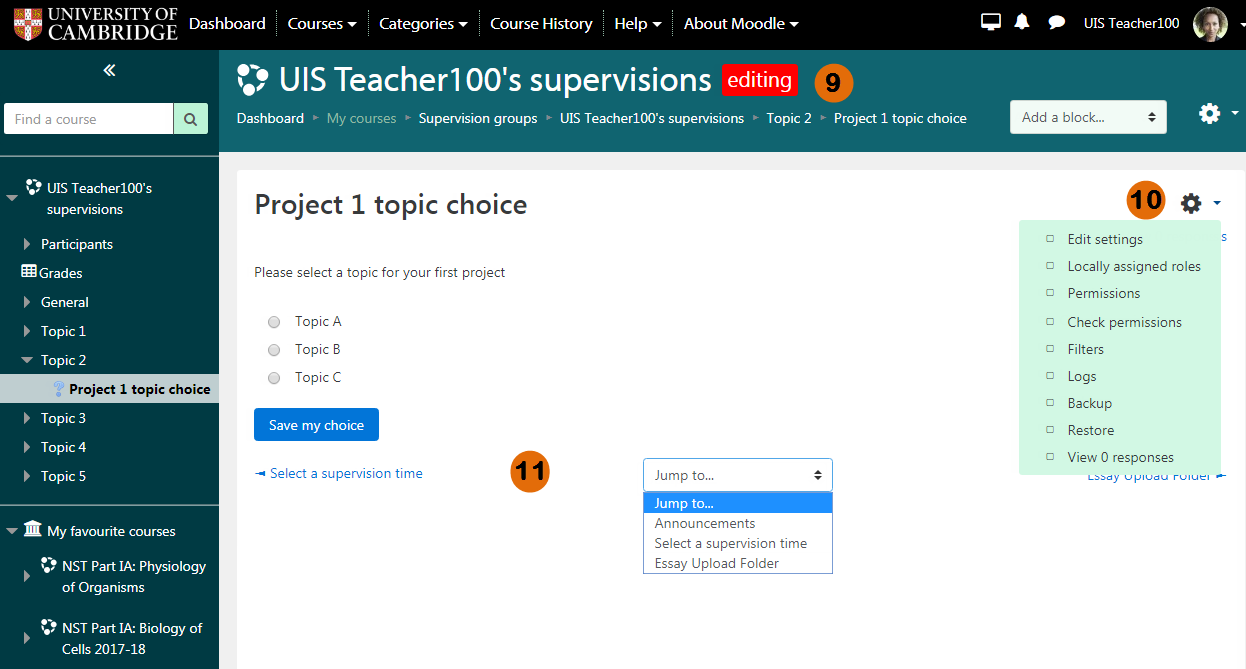 Editing mode - once editing has been turned on (see point 6 above) a red text box will appear at the top of the page to clearly indicate that editing options are enabled.
Activity/Resource Actions menu - when viewing an activity or resource, those with an editing role will be able to click a cogwheel icon to view links to possible actions.  This replaces the Administration block currently used in Moodle 3.2.
Jump to… - all users will see new ways to move between individual activities and resources within a course via a drop-down menu and arrows to the left and right.
H5P Interactive Content activity
The H5P Interactive Content activity allows H5P content to be added to Moodle courses. It allows access to H5P's library of over 30 different interactive content templates. H5P is an open source, community-driven project based in Norway. This activity type enables creative ways of structuring of information (text, images, audio, video) in a range of formats, some of which encourage revision and even assessment.  The best overview of possible content types can be found at: https://h5p.org/content-types-and-applications.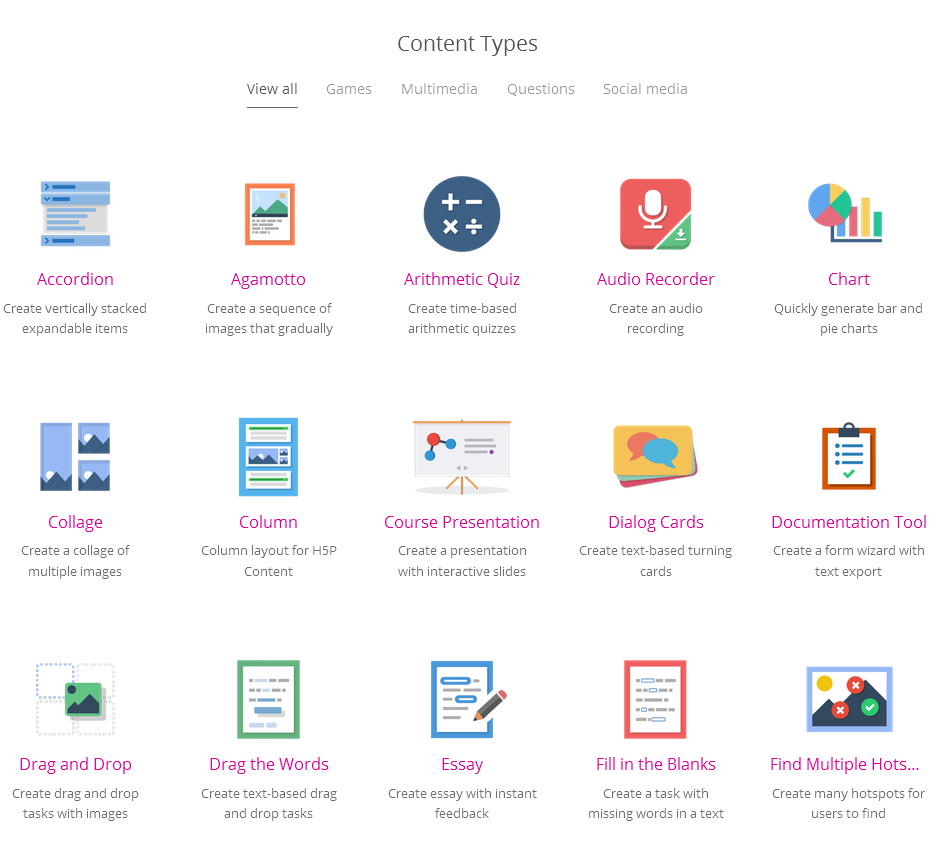 Group Choice activity
The Group Choice activity allows all participants (excluding observers) to select which course group(s) they would like to join. The person who creates the Group Choice specifies which of the current groups are available (groups must be created in advance) for selection and determines if participants can select only one group or multiple groups. It is also possible to set a maximum number of participants per group. Additional settings control whether or not participants can change their selection (within a range of dates or at any time) or whether their first submitted choice is final.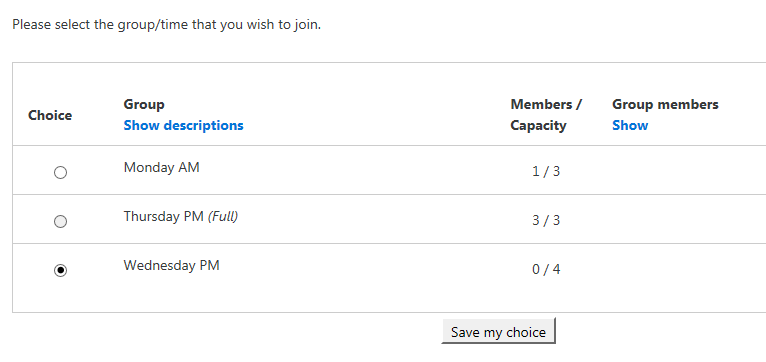 Stealth Content
Activities and resources which have been put into 'stealth' mode will not be directly visible to students within the course, but will be accessible to students who have a link to that item. Stealth content enables course layouts to be streamlined as navigation can be done via links added to a small number of key activities or resources, rather than having to locate each individual activity or resource within the course. 
For example, to access activities on a course, such as five individual quizzes, students need to locate each activity and click its title. It might be easier to create a single page resource with links to all quizzes, whilst hiding the individual activities from students' view. This can be done by putting the quiz activities into stealth mode. In such a case, students would only see the page link on the course main page – taking up less space and making all quizzes easier to locate.
A teacher in the course would see both the 'Quizzes' page and the individual quiz activities in stealth mode. Items in stealth mode are indicated by the text 'Available but not shown on course page'.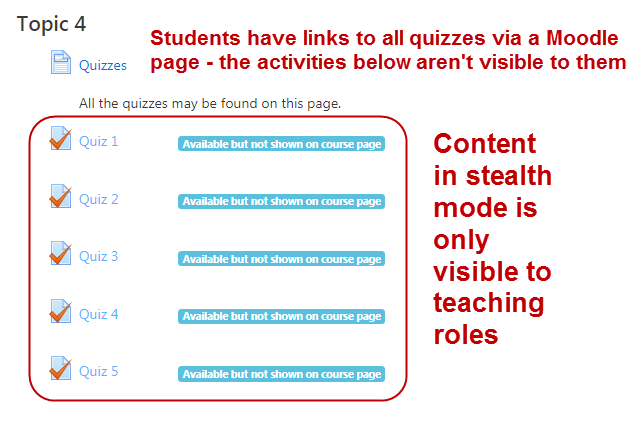 Other improvements and changes
Assignment now allows teachers to set a reminder to grade by date.  Permitted submission file types can be defined and annotated PDF comments are collapsible.
Quizzes now allow the selection of multiple questions to delete.  Question type icons are displayed in the quiz manual grading overview.
Scheduler has the option to present student with a separate booking screen before the actual booking is made. This screen may just display information to the student, or it may allow the student to enter some text, or to upload files.
Atto text editor now supports emoticons, converts URL's into links automatically and has a new grid format for flexible formatting of table-like content
User enrolment wizard now recognises email addresses in Lookup .
Tags can now be applied to forum posts, glossary entries and book chapters.
Database now allows the setting 'Required entries' to form an activity completion condition
Activity completion settings can now be edited in bulk. Teachers can manually mark activities as complete.
Open forum (was Advanced forum, then briefly renamed into Moodlerooms) has discussion locking so moribund discussions can be automatically locked after a period of inactivity.
Calendar improvements have been made as outlined in Moodle's own video demonstration.
Private files displays amount of space used.