Moodle was upgraded to version 3.2 on 27th July 2017
On the 27th July 2017 Moodle, the University's centrally-supported virtual learning environment, was upgraded to Moodle 3.2. The upgrade introduced improvements and new features as well as:
•    Improved Moodle security and reduced vulnerabilities
•    Ensured compatibility with 3rd party and Moodle community plug-ins
•    Maximised support, as all core modules are now up-to-date and supported by Moodle.org
•    Corrected a number of known issues
Fully updated Help guides are now available in Moodle Help
Please do contact the Moodle Helpdesk via moodlehelp@uis.cam.ac.uk if you have any questions.
Quick access to Notifications and Private Messages
Notifications and messages can be easily accessed from icons at the top right of the screen, just below the User menu.

Switch role to... function is now in the User menu
It is possible for those with a Teaching role to view the course through the eyes of those with different roles, such as the Student role.  Simply go to a Moodle course, click your name at the top right, select Switch role to ... and then choose the role to emulate.
When you wish to return to your normal role, select Return to my normal role from the User menu.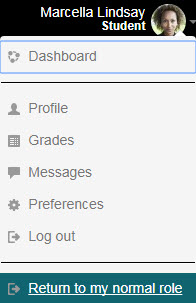 The link to course Grades has been moved to the Navigation block to make it easier to find
Previously this link was in the Administration block which was difficult to locate for some users.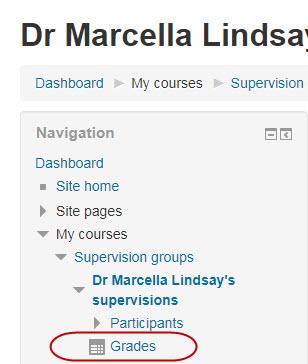 Grading within the Assignment activity has been improved
There is a new Grade button to go directly to the improved grading interface.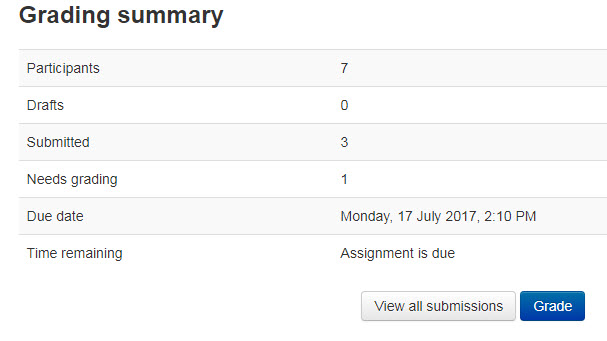 The grading page allows academics to easily move between student submissions, award marks, leave comments and manage marking workflow.  If submissions have been made as PDF's, there is an option to annotate the submission files directly via a button at the bottom right.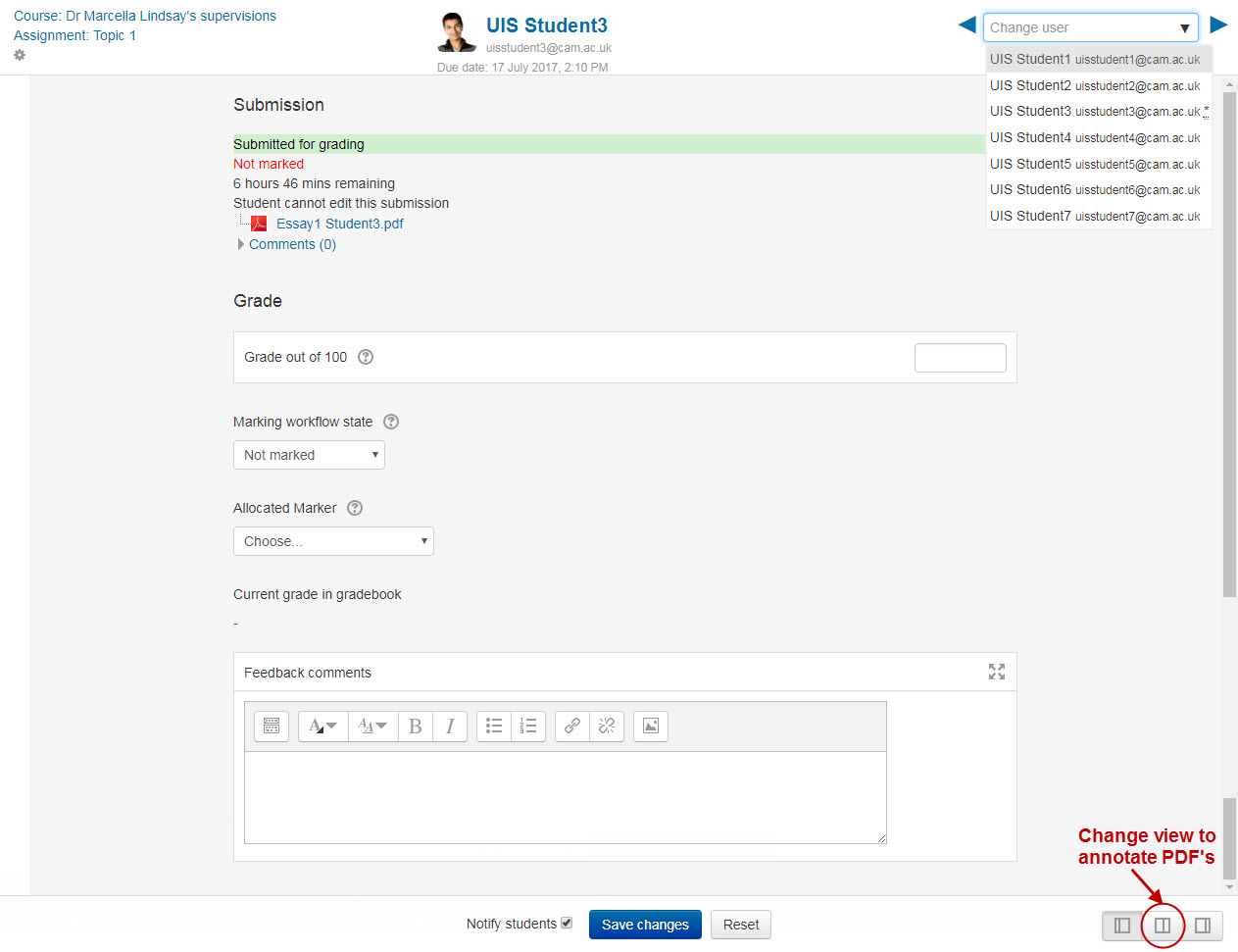 PDF submissions can be annotated in a number of ways.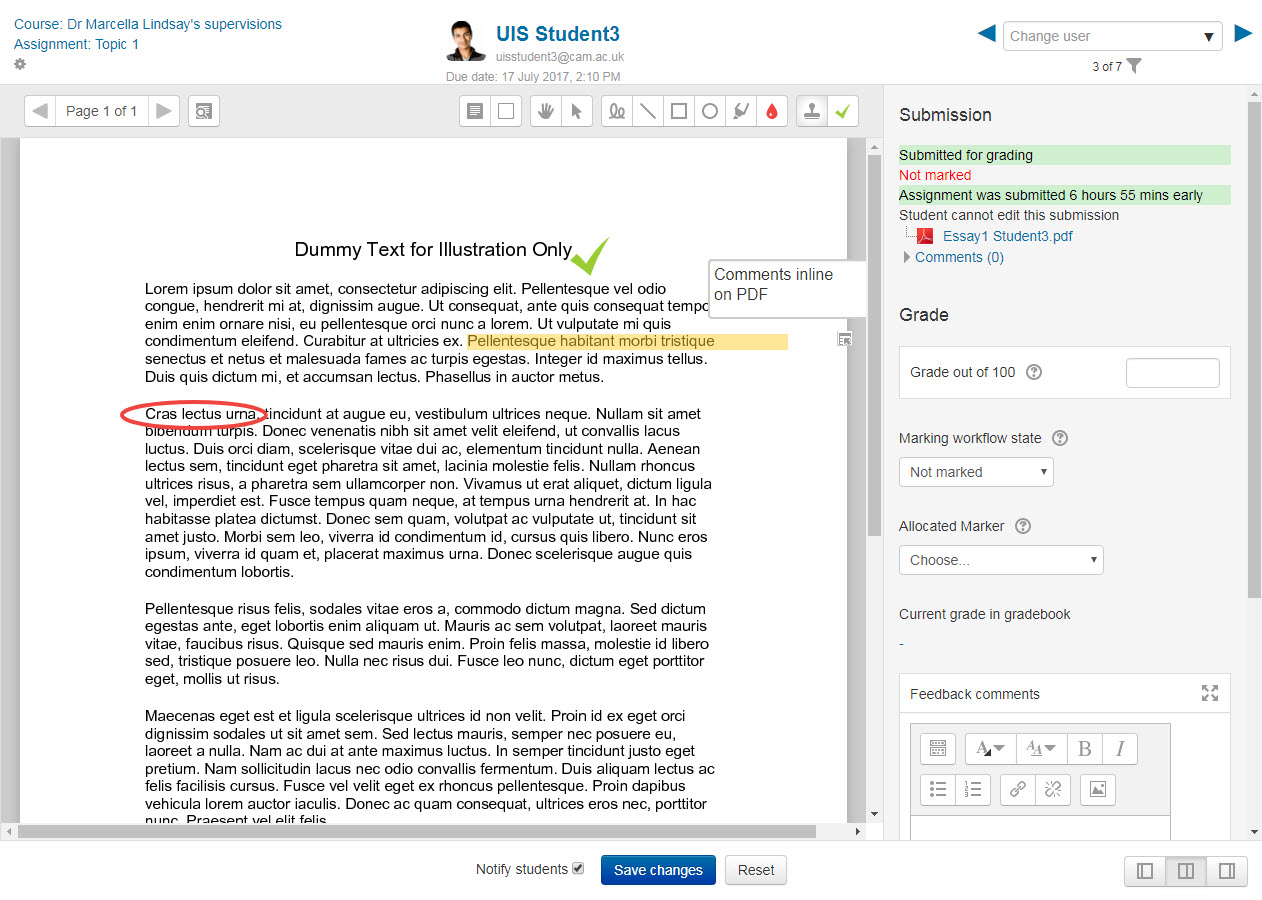 Other Assignment improvements
It is possible to specify what file types will be accepted for an assignment.  If no types are specified, all files will be accepted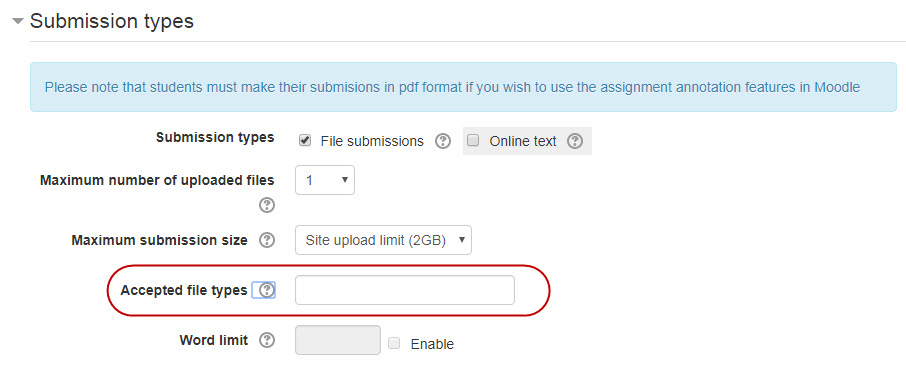 Downloading a selection of individual submissions to a .zip file is now possible.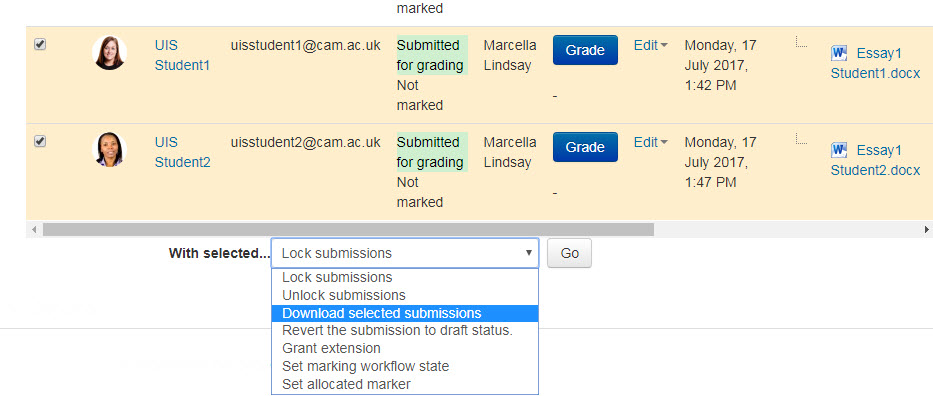 When downloading submissions there is an option to create folders for each student, labelled with their name. This can be very useful for assignments where students are submitting multiple files.

It is possible to directly override dates for specific individuals and groups.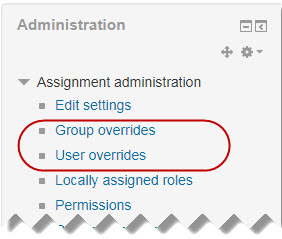 Marking rubrics may now include negative scores.

Students have the ability to download a folder's contents as a .zip file
This option is enabled by default on every folder's settings (even those created before the upgrade).  To remove the download option, untick the option and save the settings.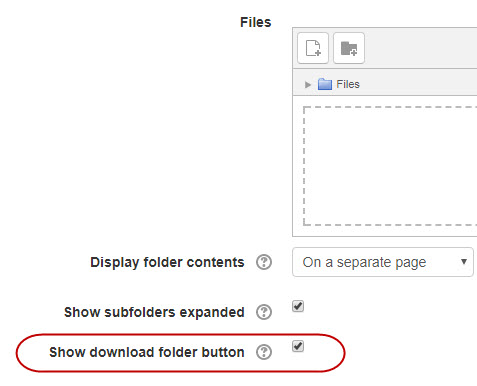 When enabled, non-teaching roles will see a Download folder button.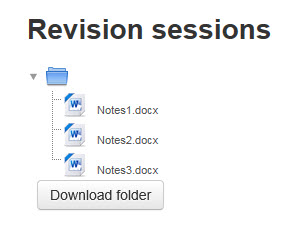 Please note: the maximum size .zip file which can be downloaded is 2GB (gigabytes).
Teaching roles can make selections for other participants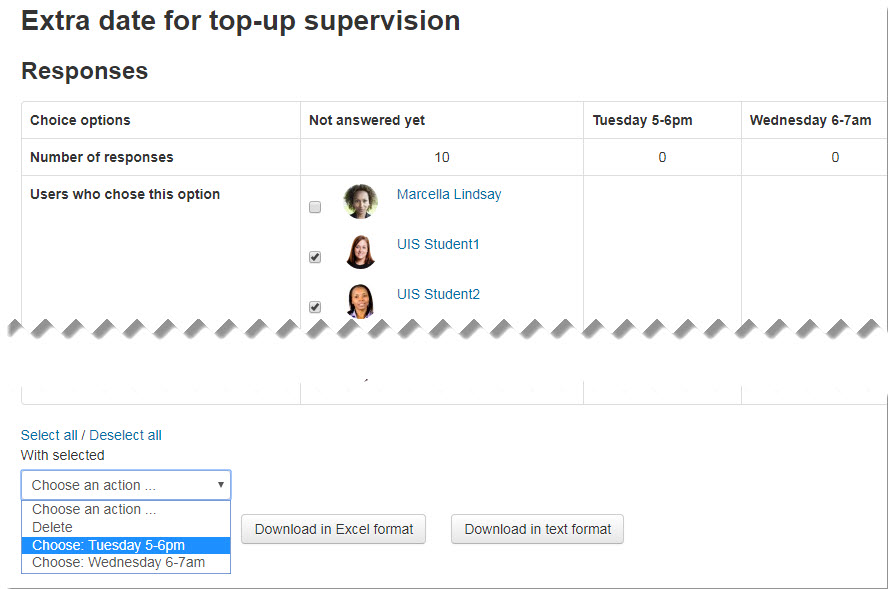 Moodle has made the Recycle bin a standard feature
All Cambridge courses have had a Recycle bin as an 'optional extra' but now Moodle's software developers have made it a standard feature.  Users will notice two small changes as a result:
There will be a one to two minute delay between an item being deleted from a course and its appearance in the Recycle bin.
Items in the Recycle bin will remain in the bin for a maximum period of time before being automatically deleted.  At the point of upgrade this has been set to a duration of just over two years to ensure that no Recycle bin content is automatically deleted without an opportunity for review.  At the start of Lent Term 2018, the maximum retention period will be reduced to 54 weeks.  Further communications will be sent in Michaelmas 2017 to remind course administrators to review the contents of their Recycle bins.

This new player is responsive and displays video well across devices and browsers.  Further details can be found on the Moodle website.
This can be used, for example, to enable access to only those with a teaching role (primarily to assist Non-editing teachers who can't see items hidden outright with the 'eye' icon).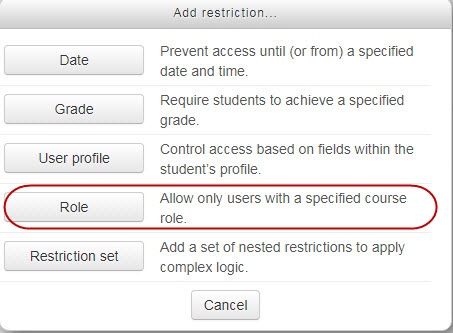 Calendar
The duration of an event lasting more than one day is indicated.
Users can define a maximum Calendar window/number of events to display in the Upcoming events block on their Dashboard (Home) page.
Editing improvements
Faster inline editing of content (such as section titles) with the pencil icon.
Changes are confirmed on the same page - no more wasted clicks on 'Continue' messages.
Forum
Discussions can be pinned to the top of the Forum for easy access.
Permalinks allow linking to specific posts.
Inactive forums can be automatically locked.
The option to send messages immediately was previously labelled 'Mail now' and is now 'Send forum post notifications with no editing-time delay'.
Graphing and data downloading
These will be displayed in areas such as Grades, Choice results, Feedback results and other reports.
Graphs and charts are fully responsive, resizing to fit your device.
Data for each bar in a chart is displayed when hovering over it and data is also presented in a table for accessibility. 
Table data can be downloaded in a wider variety of formats: Comma separated values (.csv), Microsoft Excel (.xlsx), HTML table, JavaScript Object Notation (.json) and OpenDocument (.ods).
News Forum
Will appear with a new title of Announcements in new courses.
The option to send messages immediately was previously labelled 'Mail now' and is now 'Send forum post notifications with no editing-time delay'.
Quiz
Improved quiz navigation styling enables students to easily see questions marked as correct, essay questions awaiting marking and more.
Scheduler
New type of note is available - confidential notes (visible to teachers only)
SCORM
The SCORM activity now supports group mode, so can be restricted to a particular grouping and reports may be filtered by group.
Option to include results (whether answer was right or wrong) in interactions report download
Turnitin Assignment
The button on the Turnitin assignment page which links to the assignment settings is no longer available.  Editing a Turnitin assignment's settings can still be done via the dropdown Edit > Edit settings option on the course page.