Helpdesk Availability
Hours: 9:00am to 5:00pm, Monday to Friday (except UK Bank Holidays and University closures)
Email: moodlehelp@uis.cam.ac.uk
Getting Help
If you are having a problem using Moodle then please email us with the following:
Your full name and your CRSid (for Raven users)
The College, Department or office where you work
Your contact details
A description of the problem, including the Moodle course in question and any screenshots that would help us to analyse your problem especially if you get any error messages.
Emails to the Moodle Helpdesk (moodlehelp@uis.cam.ac.uk) will be routed to the UIS Service Desk's automatic call logging system (sometimes known as HEAT).  You will receive an automatic acknowledgement from Service-Desk@UIS (service-desk@uis.cam.ac.uk ) explaining that your 'incident' has been logged and a system-generated reference number will appear in the email's subject line.
Details of your email will continue to be passed on to the Moodle Helpdesk team who will reply to you via email (or occasionally via telephone for more complex situations).  Communications will be logged against the incident number so a complete picture of the problem and resolution can be established. 
As long as you reply to emails with your incident number in the subject line, all the data for that issue will be collected in the call logging system.  If you need to raise a new issue, please start a new email chain with a subject line that does not refer to a previous incident number.
You will be able to view all of your incidents logged with UIS through a Self-Service page.  There will be a direct link to your incident's page at the bottom of the email acknowledging your call.  You will need a Raven account to access this system whose address is currently http://uniofcam.saasiteu.com
Help within Moodle
There is a drop-down list of Help topics on the top right of all Moodle pages.  These contain answers to the questions most commonly asked in Helpdesk requests. For example, topics relevant to those with a teaching role within Moodle can be found here: https://www.vle.cam.ac.uk/course/view.php?id=80851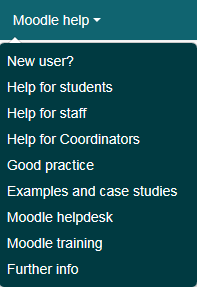 Local support for Moodle
Faculty of Education users should send support requests to moodle@educ.cam.ac.uk
Engineering users should send support requests to moodle-support@eng.cam.ac.uk