Helpdesk Availability
Hours: 9:00am to 5:00pm, Monday to Friday (except UK Bank Holidays and University closures)
Email: moodlehelp@uis.cam.ac.uk
Getting Help
If you are having a problem using Moodle then please email us with the following:
Your full name and your CRSid (for Raven users)
The College, Department or office where you work
Your contact details
A description of the problem, including the area of Moodle involved (it may help us to analyse your problem if you attach a screenshot of the page)
The Helpdesk mailbox is checked regularly throughout the working day. As soon as your call has been analysed it will be logged in the Helpdesk system, and you will be notified.
Emails received outside Helpdesk hours will be logged the next working day. Your call will then be dealt with by our Moodle experts and technical team and you will receive regular updates on its progress.
Help within Moodle
There is a drop-down list of Help topics on the top right of all Moodle pages.  These contain answers to the questions most commonly asked in Helpdesk requests. For example, topics relevant to those with a teaching role within Moodle can be found here: https://www.vle.cam.ac.uk/course/view.php?id=80851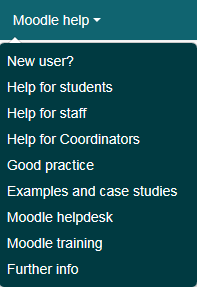 UIS Moodle Helpdesk Team
Local support for Moodle
Faculty of Education users should send support requests to moodle@educ.cam.ac.uk
Engineering users should send support requests to moodle-support@eng.cam.ac.uk