Moodle was upgraded to version 3 on the 7th of July 2016
The upgrade will introduce improvements and new features, such as My Home will be renamed as Dashboard; a range of activity enhancements and increased usability, as well as:
•    Improve Moodle security and reduce vulnerabilities.
•    Ensure compatibility with 3rd party and Moodle community plug-ins
•    Maximise support, as all core modules with be up-to-date and supported by Moodle.org
•    Correct known issues
Improvements have also been made in a number of areas, and some of the most significant have been outlined below.  All existing courses will automatically be upgraded and most will behave as they do now.  
Major changes introduced with the Upgrade to Moodle 3:
•    Dashboard and new User Menu
•    Restrict access includes groups and groupings
•    Event Monitor
•    Rich text editor (Atto) automatic draft saving and table improvements
•    Topics-based courses easier to navigate and edit
•    Gradebook improvements
The first page that all users see when they log in to Moodle has been re-named from My home to Dashboard.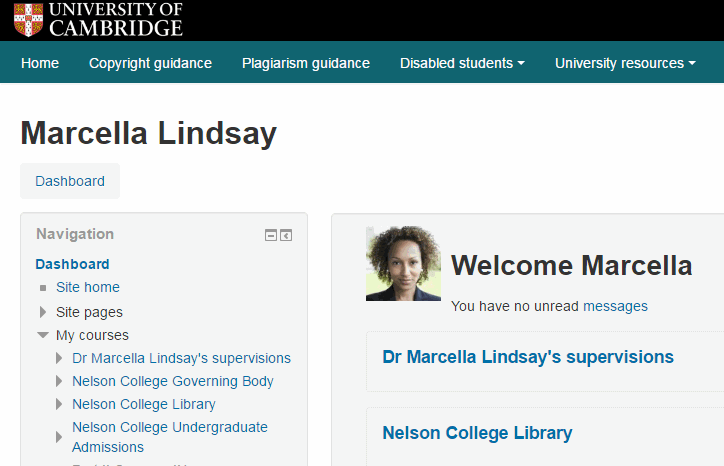 At the top right is a new drop-down user menu to give quick access to key areas of Moodle.

This menu allows quick access to a user's Profile page.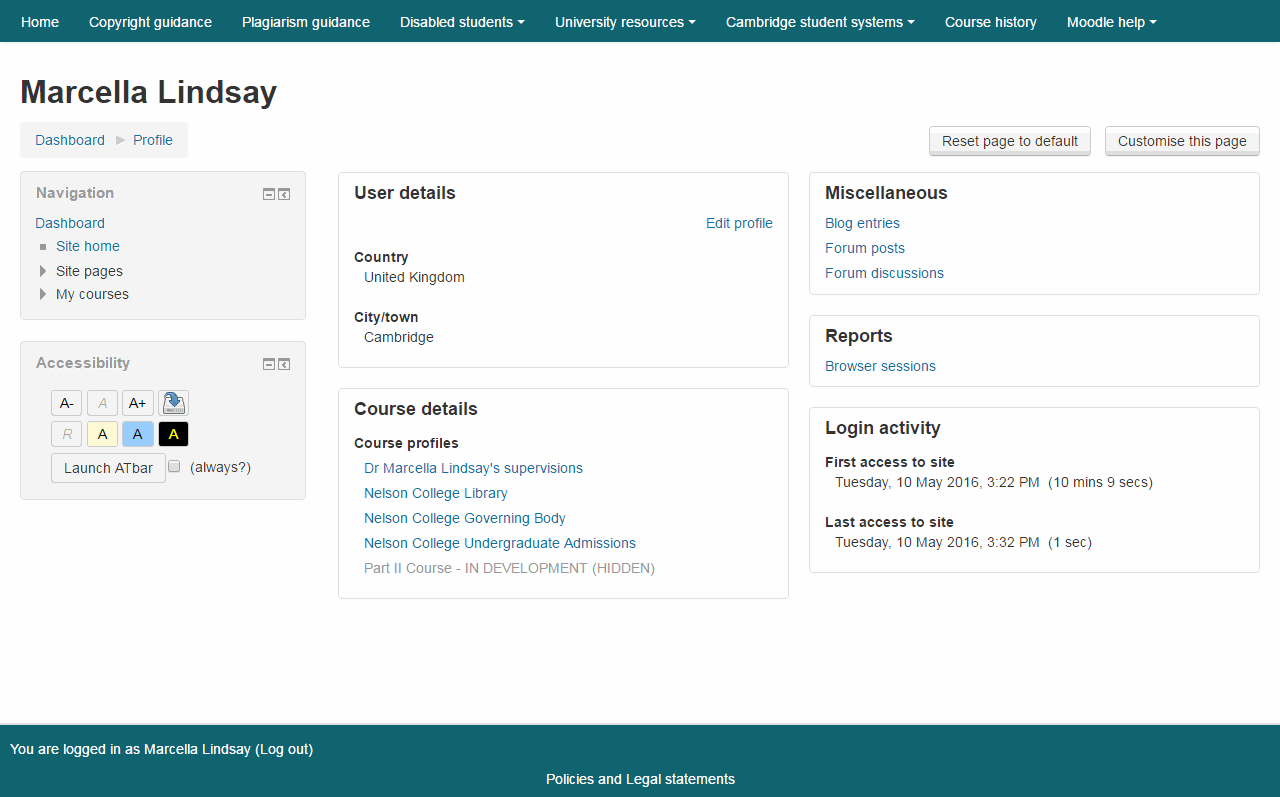 The Grades link displays courses in which the user is enrolled, grouped according to their role (teaching or non-teaching).  The Grade column will display the course grade if it has been released in Moodle.
The menu contains a direct link to a user's Messages page.

The menu allows users to easily view and edit all of their personal Preferences.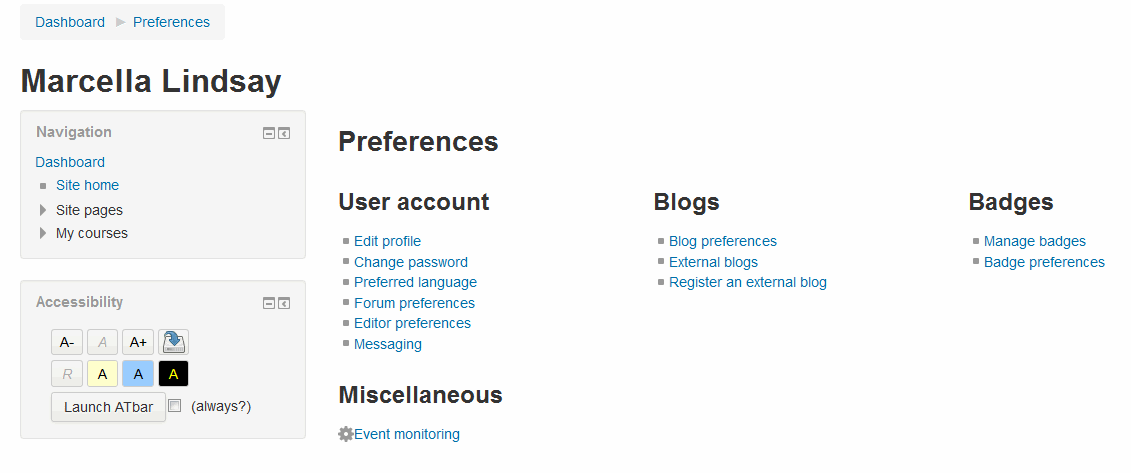 ---
It will be possible to limit access to individual resources or activities by groups or groupings, in addition to the existing restriction options.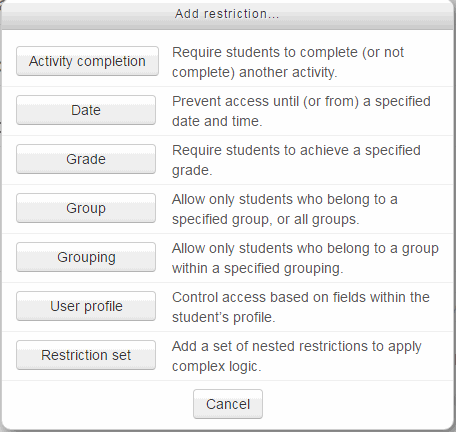 In Moodle 2.7 the only option to limit access to a single activity or resource is via a grouping (via Common module settings), but in Moodle 3 any number of groups or groupings can be specified via Restrict access.

---
This is a new feature which allows users define specific events in a course (e.g. updating a folder, adding a entry to a glossary) that will generate notification emails when they occur.
Event monitoring rules are created within a course (via Administration > Reports > Event monitoring rules). The rules define what events to monitor, how many occurrences are needed to trigger detection and the text of the notification emails.

Participants with teaching roles can subscribe to specific rules and manage their subscriptions from their Preferences menu.

When the specified events occur, Moodle will notify the subscribers via email.

Moodle.org has a video summarising the Event Monitor feature which was introduced in version 2.8:
https://www.youtube.com/watch?v=YkuK2w1lJnk
---
Atto is the default rich text editor in Moodle.  Text entered into the editor will automatically be saved every 60 seconds.
If a user leaves a page without submitting, the text in the editor will be restored next time the page is opened.

Tables created in Atto can now include border styling, sizing and background colours.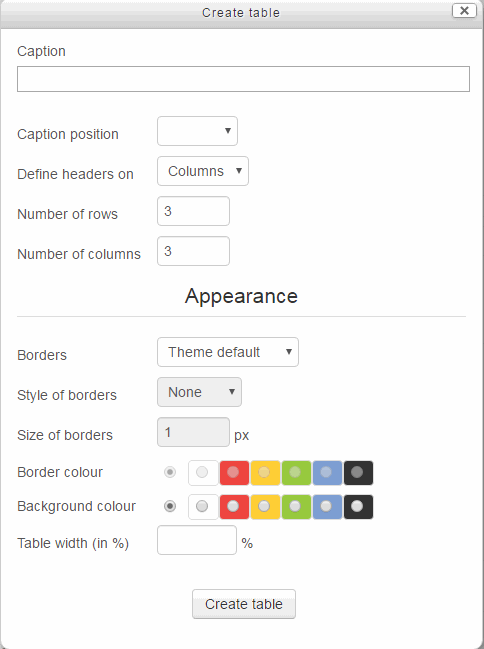 ---
The Navigation block will now link directly to each section's location.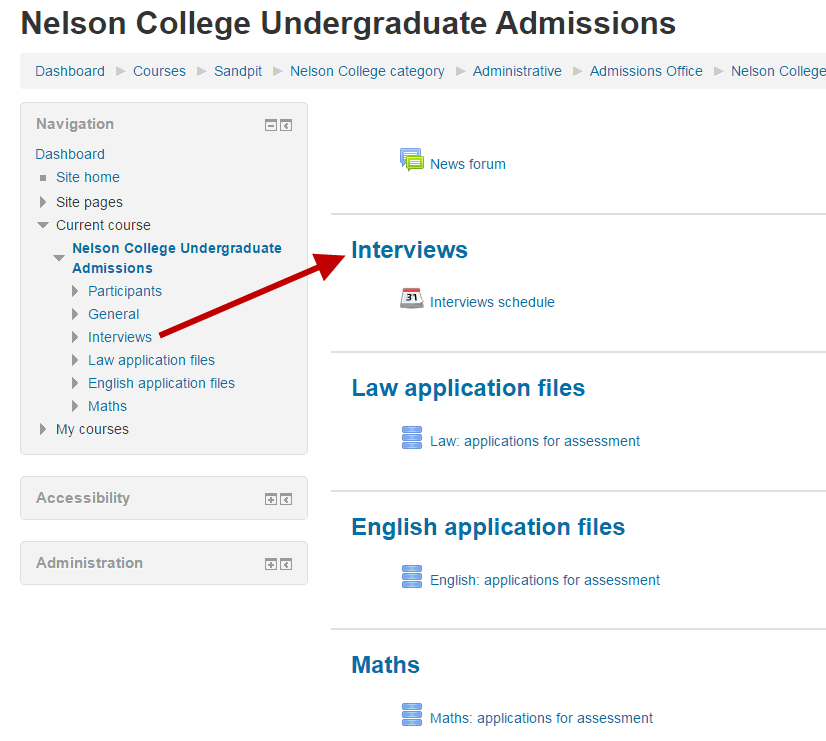 A new drop down menu allows each topic to be edited individually.
---
There is a more modern Grader interface that scrolls well on all devices.

There is a new 'single view' of any graded activity or student.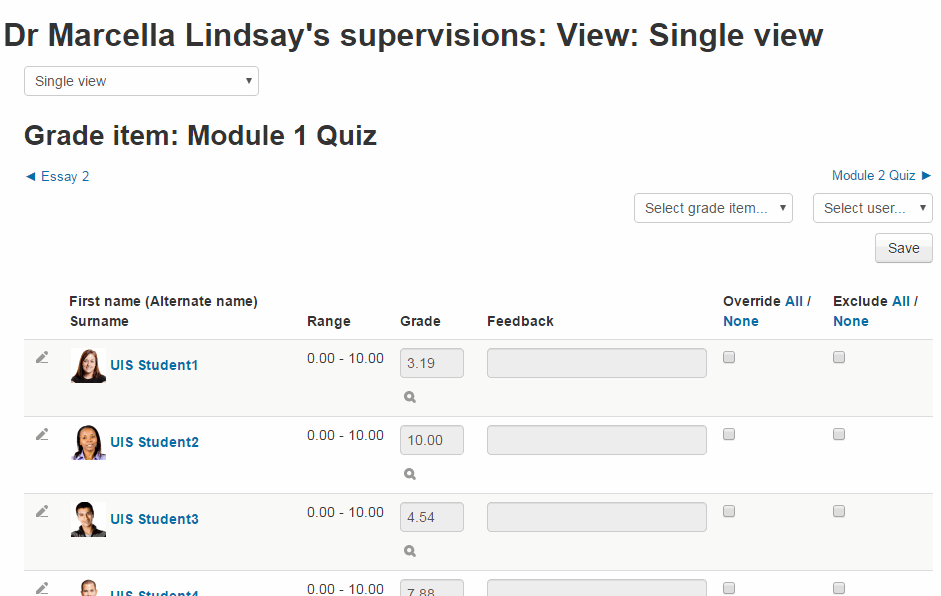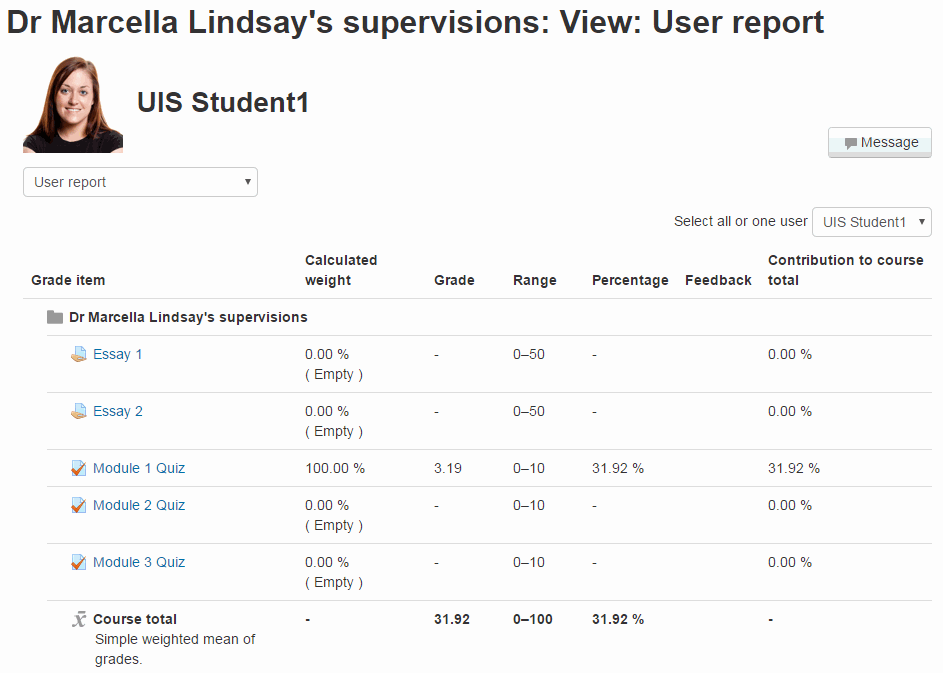 Moodle.org has a video summarising these Gradebook changes which were introduced in version 2.8:
https://www.youtube.com/watch?v=CMXvtFPmd0o
If you have any questions regarding the Moodle Upgrade to version 3 please do not hesitate to contact the Moodle Helpdesk on moodlehelp@uis.cam.ac.uk.